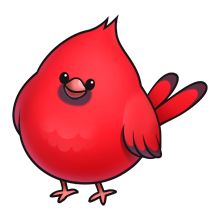 Like us on FACEBOOK!

https://www.facebook.com/oakwoodcardinals/
Our Citizens of the Month for March.
The character trait was Perseverance.
Our students are:
Pre-K: Jackson E. and Cameron A.
Kindergarten: Miley R., Amayah W., Torie B.
First Grade: Nacier S., Mi'Yona C., Kamyah P.
Second Grade: Montana L., Star B., Armani B., Zion S.
Third Grade: Kayden D., Breyonna M., Rhianna I.
Fourth Grade: Valeria Q., JoNey S., Desiree W.
Fifth Grade: Isaiah L., LaQuan H., Lucas C., Zacharay F.

Congratulations to these students!
"Making a Difference" Award
Congratulations to Miss Wetherald for receiving this award for March.
Ms. Wetherald does her best to make her students feel valuable and celebrates their successes. She demonstrates how we should treat those who are different from us, as if they are not. Ms. Wetherald's willingness to educate our children and adults about those with special needs is invaluable.
Thank you Ms. Wetherald for all you do for our students!
Oakwood's Duke TIP Students
Congratulations to these 4 Oakwood students for being accepted into the Duke TIP program!
Duke TIP is the Duke University Talent Identification Program. This program supports academically talented students in grades four through twelve. Duke TIP offers above-level testing, enrichment resources, year-round learning options, residential summer programs, online courses and need-based financial aid.
We are so excited for Kashana B., Samya L., Clara W., and Zachary D. to take part in this distinguished program.
We are Oakwood proud!